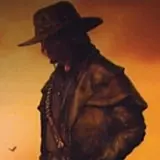 The Dark Tower combination movie and television project from Ron Howard, Brian Grazer, Akiva Goldsman and author Stephen King has been in the dark since Universal Studios passed on the ambitious and expensive project last spring. Javier Bardem was attached to star, and the Internet was buzzing with the possibility of The Dark Tower coming to the big and small screen.
According to Deadline, Warner Bros. has stepped up to the plate and has purchased The Dark Tower film script from Goldsman and are paying the writer/producer to polish it up. All the principal players from when the project was attached to Universal are still in play including Howard behind the camera and Bardem in front of it as the last gunslinger, Roland Deschain.
The Dark Tower was originally envisioned as a trilogy of films and two extended television segments, one of the most ambitious entertainment projects ever conceived. The costs were thought to be astronomical, and ultimately Universal backed off and would only produce a single film and not the television series per various reports.
It's still unclear how the project will come together at Warner Bros. The studio is said to have been interested in it for some time, plus there have been rumors of the television portion going straight to HBO – a move that makes perfect sense since HBO falls under the Time Warner umbrella and isn't restricted by the censorship rules on network television or basic cable. There's also still the matter of the massive budget, something Warner Bros. will either gamble on or force a sizable monetary trim.

Deadline claims production on The Dark Tower would commence in early 2013, a time frame that wouldn't put the first film in theaters until 2014 at the earliest.

This story is still early and there's much more to come. For the time being, it looks like The Dark Tower has a wheel back on the track and is picking up a little steam at Warner Bros.

Source: Deadline