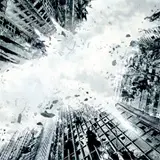 The teaser trailer for The Dark Knight Rises was definitively proven to exist this morning when someone filmed it playing in a theater and subsequently shared it with the world via YouTube.
It didn't take long for the trailer to spread across the Internet like a virus out of control. Shortly after it began appearing, Warner Bros. lawyers swooped into action and pulled mirrored versions almost as quickly as they popped up.
I saw the leaked bootleg The Dark Knight Rises trailer this morning but won't be posting it here. The real deal in high definition should be available online within the next 12-48 hours. Until then you can either surf the Internet and try to find the trailer that Warner Bros. hasn't found yet, or read the trailer description that appeared yesterday and was proven 100% accurate after the leak.
The Dark Knight Rises teaser trailer will debut theatrically attached to Harry Potter and the Deathly Hallows Part 2 where millions of people will see it on the big screen this weekend. While you wait, be sure to check out The Dark Knight Rises poster that debuted earlier this week.