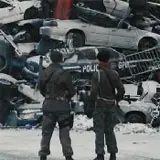 Not too long ago, a new The Dark Knight Rises trailer with some dialogue footage embedded debuted during the MTV Movie Awards. Soon after it made its way online in a low quality version complete with the screams of fans in attendance, until Warner Bros. quickly went around and had it yanked.
Now the trailer is back online in its official, high resolution form. And there's no screaming MTV fans so you can hear every bit of dialogue, including Bane's ominous proclamation, "Let the games begin."
The trailer begins with Selina Kyle (Anne Hathaway) being gently interrogated by officer John Blake (Joseph Gordon-Levitt). Kyle seems to have information Blake wants, but she's playing coy rather than playing safe.
Looking at this scene, and the previously released trailer scene of Kyle and Wayne (Christian Bale) dancing where she tells him "a storm is coming," we get a clear picture of how Hathaway is playing the character, and how she might just steal the whole movie. She has an attitude in the way she walks and talks, yet also a vulnerability that Bane (Tom Hardy) is likely to exploit. What is she hiding, and what is her real ambition other than popping open safes? I can't wait to find out.
The rest of The Dark Knight Rises MTV trailer is a mix of previously released and all-new footage. Don't worry if you think watching this gives away a lot of the film. The recently revealed The Dark Knight Rises runtime confirms there is a lot more yet to be seen.
The Dark Knight Rises opens in exactly two weeks from today on July 20, 2012. Do yourself a favor and see it in IMAX as roughly half of the movie was filmed with IMAX cameras.