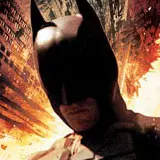 The Dark Knight Rises has been given a December 4, 2012 release date on Blu-ray and DVD, making it one the must-have Blu-ray releases this holiday shopping season.
Now that we have a release date and all of the disc details, the last piece of The Dark Knight Rises puzzle is an active pre-order. Earlier this morning, online retailer Amazon.com formally launched their pre-order for The Dark Knight Rises and begins what should be a battle between Batman and The Avengers on top of Amazon's Blu-ray bestsellers chart.
Amazon has priced Christopher Nolan's The Dark Knight Rises on Blu-ray at $25.19, which works out to 30% off the $35.99 list price. Pre-ordering now locks you into Amazon's best price guarantee. What that means is if you pre-order the title and the price goes down between now and the December 4 release, you will get it at the lowest price.
Click here to pre-order The Dark Knight Rises on Blu-ray and DVD combo for $25.19 at Amazon.com
The Dark Knight Rises stars Christian Bale, Tom Hardy, Anne Hathaway, Joseph Gordon-Levitt, Marion Cotillard, Gary Oldman, Michael Caine and Morgan Freeman. It has earned $443 million at the domestic box office and $1.067 billion worldwide.