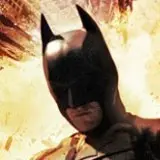 The Dark Knight Rises lived up to its name this weekend in rising to the number one position at the North American box office for the second consecutive weekend. Warner Bros. and Batman's competition, Vince Vaughn and The Watch and Step Up Revolution, both failed to reach $15 million in buckling under the pressure of Christopher Nolan's Gotham City finale.
After pulling in only $18 million on Friday, it was looking doubtful that The Dark Knight Rises would reach $60 million in its second weekend of release. The shadow of the Colorado tragedy still loomed overhead, while the opening of the London Olympic Games was a huge distraction to keep moviegoers plastered in front of their television sets rather than venturing out to their local cinema.
Thanks to a healthy 40 percent bump on Saturday and continued strong demand for IMAX showings, The Dark Knight Rises rose up to $64.1 million from Friday through Sunday and now stands less than $11 million away from crossing $300 million in domestic ticket sales. Counting foreign markets, The Dark Knight Rises is at $537 million and steadily marching toward the impressive $600 million mark.
Another holdover, Fox's Ice Age: Continental Drift, took second place with $13.3 million in its third weekend of release. Fox's fourth foray into the world of Ice Age is now at $114.8 million and counting. None of the previous films in the franchise hit $200 million domestically so Continental Drift is falling right in line. Overseas, Scrat and friends are raking in the cash as they scamper past half-a-billon in business.
Fox's The Watch with Ben Stiller, Vince Vaughn, Jonah Hill and Richard Ayoade opened with reasonable expectations, none of which were met. With only $13 million in its opening weekend off a $68 million budget, Stiller and Vaughn might want to rethink their projects else fall into the Adam Sandler trap of comedians gone cold at the box office.
Summit didn't get much of a strong performance from Step Up Revolution with $11.8 million in its debut. Look for this dance sequel to fade fast and hot step its way to home video in a jiffy.
Universal's Ted continues to perform strong, coming in fifth place with $7.3 million. With $193.6 million already in the bank, Ted will cross the $200 million milestone this week and defy the odds of an R-rated film about a talking teddy bear being a breakout hit. Ted is the only film in the top five whose Blu-ray is already up for pre-order.
The rest of the top 10 at the box office shook out as follows:
6. The Amazing Spider-Man (Sony) – $6.8 million, $242 million to date
7. Brave (Disney) – $4.2 million, $217.3 million to date
8. Magic Mike (Warner Bros.) – $2.6 million, $107.6 million to date
9. Savages (Universal) – $1.8 million, $43.9 million to date
10> Moonrise Kingdom (Focus Features) – $1.4 million, $38.4 million to date
The Dark Knight Rises will face off against another sequel, Diary of a Wimpy Kid: Dog Days, and a remake of Total Recall for box office supremacy next weekend. Batman will have his work cut out for him to ascend to the top yet again.