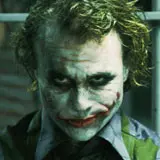 Lines are forming at Best Buys, Blockbusters and other retailers around the nation. The anticipation is building. In just a few short hours, The Dark Knight on Blu-ray Disc will be here (read our thorough review if you haven't already).
Some fans are already reporting The Dark Knight Blu-ray Disc is sold out at brick-and-mortar stores ahead of the midnight launch. If you didn't reserve a copy, you better call ahead before waiting in the cold.
There's no denying The Dark Knight stands poised to flatten every Blu-ray Disc sales record that Iron Man set a little over two months ago. The Batman Begins sequel shot to the top of Amazon.com's Blu-ray sales chart the day it went up for pre-order and has not budged since.
Where The Dark Knight can penetrate that other Blu-ray Disc films have had trouble is the gaming audience on Playstation 3. I've always felt The Dark Knight was the best shot at getting PS3 gamers to shift their thinking from DVD to Blu-ray Disc. After doing a quick web search this thought may not be far off base.
A trio of separate user comments at N4G.com, a haven for gamers, state "This will be the first Blu-ray movie I buy, that's for sure," "…this is actually the very first blu-ray movie i will buy on release date from excitement" and "This is going to be my first Blu-Ray movie purchase." Surely they aren't alone.
Taking into consideration how many potential thousands of Playstation 3 owners and new Blu-ray Disc player owners there are out there about to make The Dark Knight their inaugural Blu-ray viewing experience, I felt it best to toss together a quick and simple "newbie" guide. How do you get the best audio out of The Dark Knight? Why does the screen shape seem to change? How come you can't access the BD-Live features? Read on.
Bigger is, in fact, better
Bigger is not always better depending on whom you may chat with. In the case of Blu-ray size does matter. 1080p lines of resolution is no slouch in a home viewing environment. If you want to get the best out of it, especially The Dark Knight's gorgeous IMAX sequences, you'll want to watch it on the biggest screen you can.
Most of the complaints against Blu-ray's image quality come from people who don't have the proper hardware to take advantage of it. Yes, you can see an improvement on a 32″ TV of Blu-ray versus DVD, but the difference will be much more pronounced on a 53″ set, and even more so on a front projection system of 80 to 130″. These massive configurations aren't for everyone's budget and home size, but if you can, hook your Blu-ray player up to the largest 1080p screen you have access to.
High-def refers to the audio, too
All you ever hear about in mainstream media sources when Blu-ray Disc comes up is "1080p" picture. That's great, but did you know Blu-ray also supports high definition audio? The available formats are commonly referred to as lossless audio, meaning the track on the Blu-ray Disc is identical to the master track created by the filmmakers without any compression or degradation.
When Blu-ray first launched there was a lot of confusion surrounding lossless audio. Most players and audio video receivers couldn't decode the formats, which in themselves were confusing with Dolby TrueHD, DTS-HD, DTS-HD Master Audio and PCM.
Today the audio formats typically fall into two types: DTS-HD Master Audio and Dolby TrueHD, the successors to DTS and Dolby Digital lossy formats found on DVD.
In order to take advantage of the Dolby TrueHD lossless audio track on The Dark Knight, you'll need either your Blu-ray Disc player or a/v receiver to decode the formats. Unless you bought a new receiver in the past 12 months and were aware of looking for DTS-HD and Dolby TrueHD on-board decoding, your receiver likely doesn't have the ability.
Thanks to one of many firmware updates, Playstation 3 owners can decode both formats directly on the console. Other Blu-ray Disc players are also capable of decoding the formats and passing the stream to a receiver via HDMI. Check your owners manual to see if yours can.
Why does the screen change shape so much?
The Dark Knight's director and co-writer, Christopher Nolan, took a big financial chance by filming six of the major action sequences using IMAX cameras. The IMAX sequences are shot in an aspect ratio of 1.78:1, the same as most widescreen HDTV is presented on a typical HD set. These scenes fill the screen and are some of the most impressive high-def imagery you'll ever get out of your Blu-ray player.
The rest of the film is shot in a more traditional theatrical aspect ratio of 2.4:1. During these scenes, which make up the majority of the film, you'll notice black bars above and below the image that disappear when an IMAX scene comes on. This is perfectly normal and part of how Nolan framed his film.
BD-Live, how can I use it?
The Dark Knight is the first Blu-ray Disc title from Warner Home Video with BD-Live features. In layman terms, this means the disc can access exclusive online content when played on a player with BD-Live support.
In order for a Blu-ray Disc player to access BD-Live it neesds to be 2.0 compliant. Many of the Black Friday blowout players were only 1.1 compliant meaning they can do everything the 2.0 players can do expect access BD-Live. If you have a 1.1 player then you are simply out of luck unless the manufacturer releases a firmware update.
Playstatation 3 console owners are, once again, in the driver's seat. Sony gave PS3 2.0 compliance via firmware so its ready to go online.
The Dark Knight's BD-Live features are cutting-edge for the still-young application. They include the ability to host a live screening with friends in other homes also connected to BD-Live, use My WB Commentary to record a video commentary over the film and send it to friends as a picture-in-picture feature and access to additional bonus material only available online via BD-Live including two motion comics and an exclusive look at The Dark Knight's New York premiere.
A special Live Community screening will take place on December 18 with director Christopher Nolan. The first 100,000 people who register for the screening via Warner's BD-Live portal will be able to attend.
Registering is as simple as making sure your BD-Live 2.0 compliant player is connected to the Internet and access the BD-Live tab in The Dark Knight's menus. On-screen prompts will guide you through the rest.
And that, folks, are the basics of what you need to know to take advantage of what The Dark Knight has to offer on Blu-ray. Enjoy the disc, and if you have any additional questions about the title or anything at all relating to Blu-ray, drop us a line in the HDR Forums where one of many early Blu-ray adopters will be glad to help you out.
– Dan Bradley