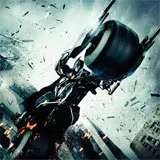 There's been a lot of confusion surrounding the status of Warner Home Video's The Dark Knight Blu-ray Disc release, namely the Limited Edition set.
When Warner first announced two skus for The Dark Knight last month, they released a handful of images for the Limited Edition Bat Pod case. Less than a day later, those images, and all references to the Bat Pod, were removed.
We were left wondering if this set was going to be a retailer exclusive given it's obvious existence but now you see it, now you don't debut. As it turns out that isn't the case.
We've learned The Dark Knight Limited Edition Blu-ray set will be available at all retailers, like the regular Blu-ray edition, and carry an SRP of $64.99. Online retailer DVDEmpire.com has already begun taking pre-orders for this set, and we expect Amazon.com to begin any time now.
To refresh your memory, both versions of The Dark Knight on Blu-ray will be presented in widescreen 1080p video and 5.1 DolbyTrueHD lossless audio. Extra features are as follows, with the Bat Pod being obviously exclusive to the Limited Edition.
Exclusive Bat-Pod Display Case
Gotham Uncovered: Creation of a Scene
Batman Tech: The Incredible Gadgets and Tools (HD)
Batman Unmakes: The Psychology of the Dark Knight (HD)
Gotham Tonight – 6 Episodes of Gotham's news program
The Galleries – the Joker Cards, Concept Art, Poster Art, Productions Stills, Trailers, TV Spots
Check out images of The Dark Knight Limited Edition set below. The two loose hots can be enlarged to high resolution by clicking on them.
Click here to pre-order The Dark Knight on Blu-ray for $24.95 from Amazon.com.