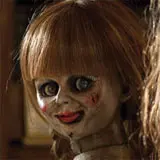 The Conjuring conjured up big crowds in the mood for horror and Vera Farmiga at the North American box office this past weekend. The well-received film trampled fellow newcomers Red 2, Turbo and R.I.P.D., all of which had debuts that ranged from mediocre to dismal. Overall, the box office was off five percent from last weekend's totals and down a steep 21% from last year at this time when The Dark Knight Risesrose to a massive $160 million debut.
The budget was low, the marketing effective, and advanced word-of-mouth billowed with praise for The Conjuring. Add to the mix a great 85% approval rating from the nation's critics on Rotten Tomatoes and you have all the elements for a sleeper summer hit. The Conjuring scared up an estimated $41.5 million from 2,903 theaters and a great per screen average of $14,306, all without the benefit of 3D or IMAX surcharges.
Directed by James Wan (Saw, Insidious) and starring Vera Farmiga and Patrick Wilson, the $20 million production left audiences pleased (for a horror film) according to a CinemaScore rating of "A-," which should help the movie stick around for a while during the summer's second half.
After a two-week reign at number one, Gru and his Despicable Me 2 minions moved down to second place but still kept the money rolling in on 3,820 screens. Off a mere 43%, DM2 earned an estimated $25.1 million to bring its three week domestic haul to $276.2 million, which officially makes it the highest-grossing domestic animated feature of 2013 so far. Showing little sign of slowing down, the Universal smash could be heading toward the $330-340 million mark for its final domestic gross on top of $308 million overseas thus far.
Landing in third place with mixed numbers was the latest 3D animated feature from Fox/Dreamworks, the snail racing comedy Turbo. Getting a head start on the competition by opening this past Wednesday on 3,806 screens, Turbo encountered ticket buyer turbulence right out of the gate. The first two days earned a meek $9.7 million and the Friday-to-Sunday frame could only add $21.5 million to that.
Critics were somewhat favorable on the PG-rated comedy that features the voice talents of Ryan Reynolds and Paul Giamatti. They gave the movie a decent 66% approval on Rotten Tomatoes. But audiences — in particular families — who have already have shelled out plenty of money this summer on Epic, Monsters University and Despicable Me 2 were more than happy to take a break from Hollywood's latest cartoon. Viewer burnout on animated features may prove to be a bad omen for Disney's Planes which arrives on the scene August 2.
In fourth place for the weekend was the Adam Sandler sequel Grown Ups 2 with a weekend haul of $20 million from 3,491 theaters in its sophomore session. Off 52%, the critic-proof hit has earned a solid $79.5 million thus far and should wind down its run around the $120 million mark, which would be roughly 25% behind the 2010 original.
Rounding out the top five this weekend was the Lionsgate/Summit sequel Red 2 with an opening of $18.5 million on 3,016 screens, a debut that was roughly 15-20% less than the 2010 original's $21.7 million debut. The $84 million production reunites most of the stars of the 2010 sleeper: Helen Mirren, Bruce Willis, Mary-Louise Parker and John Malkovich, while adding Anthony Hopkins and Catherine Zeta-Jones to the mix. The movie earned a meek 40% approval rating on Rotten Tomatoes from critics but scored a more encouraging "B+" from CinemaScore. As the film is aimed more toward an older audience, positive word-of-mouth could help the film's financial prospects over the next couple of weeks.
It was not the best weekend to be Ryan Reynolds. Not only did Turbo sputter out of the gate, Reynolds' latest live-action film also opened to the worst numbers of any big-budget film this summer (if not this year): the Universal bomb R.I.P.D. Co-starring Jeff Bridges, the Men in Black wannabe finally made it to movie screens after being shot two years ago and delayed immediately after that in an attempt by Universal to try and breathe life into the troubled $150 million production. Judging by the terrible ad campaign, the 11% approval rating on Rotten Tomatoes and the deadly "C+" CinemaScore rating, the studio did very little to help it. Opening in seventh place on 2,852 screens, R.I.P.D. lived up to its name with $12.7 million despite the added advantage of 3D ticket surcharges. The awful opening for R.I.P.D. marks Hollywood's latest big-ticket letdown following The Lone Ranger, After Earth, Pacific Rim and White House Down.
The remainder of the top ten is as follows:
6. Pacific Rim (Warner) $15.9 million (-57%); $68.2 million
8. The Heat (Fox) $9.3 million (-33%); $129.2 million
9. World War Z (Paramount) $5.2 million (-44%); $187 million
10. Monsters University (Disney/Pixar) $5 million (-53%); $249 million
Fox's The Wolverine starring Hugh Jackman breaks out its claws next weekend on 3,700 screens and should slice and dice The Conjuring for an easy weekend win.
– Shawn Fitzgerald