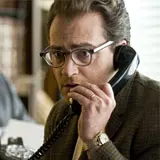 Joel and Ethan Coen's latest cinematic effort, A Serious Man, has been tapped for a simultaneous DVD and Blu-ray Disc debut on February 9 from Universal Studios Home Entertainment.
The dark Jewish comedy stars Michael Stuhlbarg as a professor whose life is spiraling out of control, prompting him to visit and seek advice from three different rabbis to correct his course.
Universal will present a Serious Man on Blu-ray in 1.85:1 1080p video and 5.1 DTS-HD Master Audio.
A trio of bonus features are confirmed for the disc though the number could increase as any Blu-ray exclusives have yet to be identified. The known extras are Becoming Serious, Creating 1967, and Hebrew and Yiddish for Goys.
A Serious Man on Blu-ray will carry an SRP of $36.98. I will pass along Amazon.com pre-order pricing and high-res cover art when available.