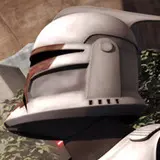 Up until now the third season of LucasFilm's Star Wars: The Clone Wars animated series has danced around the political and sociological impact of the war. Anakin Skywalker as taken a back seat to his love, Senator Amidala, who has been a central character in seemingly every other episode.
The Galactic Senate will be the one taking a back seat when the Clone Wars returns on January 7 with the first of 11 new episodes that will bring the season of "secrets revealed" to a close. The first three episodes are an arc that introduces Savage Opress, brother of Darth Maul and not someone you want to mess around with. From there Anakin, his Padawan Ahsoka and the rest of the Jedi order will have their hands full facing off against the Sith Witches and other threats.
The three-episode arc with Savage Opress recently played theatrically in limited release. At its conclusion was a trailer for the remaining 8 episodes that look like an entirely different show from the first half of the season. Pay close attention in the trailer, shared online courtesy of EW and viewable here, as Ahsoka takes an unexpected walk on the dark side much to her master's dismay.