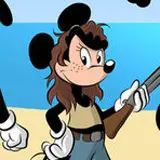 DevianArt user NuttyIsa came up with a rather ingenious idea of blending the characters from two properties they love: ABC's 'Lost' and Disney animation.
The result is an incredibly cool drawing with the entire core cast of 'Lost' rendered as Disney characters. I think you'll agree that it is a fantastic crossover idea pulled off flawlessly.
Some of the characters are a little harder to recognize than others so the artist added a little accompanying cheat sheet. Roughly from left to right are Goofy as Michael, Minnie Mouse as Kate, Max as Walt, Pluto as Vincent, Mickey Mouse as Jack, Scrooge McDuck as Ben, Donald Duck as Sawyer, Daisy Duck as Juliet, Horace Horsecollar as Sayid, Gus Goose as Hurley, Arizona Goof (Goofy's cousin) as Locke, and Phantom Blot as the Man in Black.
Click the 'Lost' Disney characters image below for a closer look. Be sure to check out NuttyIsa's DevianArt page as well.