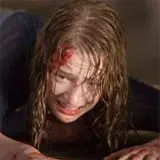 Joss Whedon and Drew Goddard's twist on the horror genre, The Cabin in the Woods, is coming to Blu-ray and DVD on September 18. It drops one week before Whedon's The Avengers debuts on Blu-ray.
What starts off as a typical horror film for five kids who visit a freaky cabin in the woods takes unexpected turns that flips the genre on its head. The film stars Kristen Connolly (The Happening), Chris Hemsworth (The Avengers), Anna Hutchison, Fran Kranz, Jesse Williams, Richard Jenkins and Bradley Whitford.
The Cabin in the Woods tech specs include 2.4:1 1080p video and 7.1 DTS-HD Master Audio. Bonus features include:
Audio commentary with Writer/Director Drew Goddard and Writer/Producer Joss Whedon
"We Are Not Who We Are: Making The Cabin in the Woods" – "making of" documentary
"The Secret Secret Stash" featurette

Marty's Stash
Hi, My name is Joss and I'll be your guide

Wonder-Con Q&A with Joss and Drew
"An Army of Nightmares: Make-Up & Animatronic Effects" featurette
"Primal Terror: Visual Effects" featurette
"It's Not What You Think: The Cabin in the Woods" Bonus View Mode
Click here to pre-order The Cabin in the Woods on Blu-ray for $27.99 at Amazon.com, 30% off the $39.99 list price.