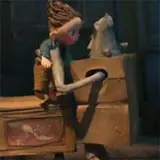 We are still 15 months out from the release of The Boxtrolls in cinemas, but already an early teaser trailer from Focus Features has been officially released that is rightfully generating a lot of positive buzz.
Directors Anthony Stacchi and Graham Annable are employing a combination of stop-motion and CGI animation to bring these trolls that live in — literally — recycled cardboard boxes to life. Stop-motion animation is an art form that paved the path for today's CGI techniques, so it's great to see this blend of old and new coming together in such a convincing manner.
If you think the idea of trolls living in boxes is bizarre then wait until you read the film's official synopsis. These boxtrolls live under a city called Cheesebridge, and as the name implies, cheese is a big part of what makes the town go around. The residents of Cheesebridge don't much care for the boxtrolls, but winds of change are starting to pick up.
The new 3D stop-motion and CG hybrid animated feature is a comedic fable that unfolds in Cheesebridge, a posh Victorian-era town obsessed with wealth, class, and the stinkiest of fine cheeses. Beneath its charming cobblestone streets dwell the Boxtrolls, foul monsters who crawl out of the sewers at night and steal what the townspeople hold most dear: their children and their cheeses. At least, that's the legend residents have always believed. In truth, the Boxtrolls are an underground cavern-dwelling community of quirky and lovable oddballs who wear recycled cardboard boxes the way turtles wear their shells. The Boxtrolls have raised an orphaned human boy, Eggs (voiced by Isaac Hempstead-Wright), since infancy as one of their dumpster-diving and mechanical junk-collecting own. When the Boxtrolls are targeted by villainous pest exterminator Archibald Snatcher (Academy Award winner Ben Kingsley), who is bent on eradicating them as his ticket to Cheesebridge society, the kindhearted band of tinkerers must turn to their adopted charge and adventurous rich girl Winnie (Elle Fanning) to bridge two worlds amidst the winds of change – and cheese.
The Boxtrolls stars the voices of Ben Kingsley, Elle Fanning, Jared Harris, Toni Collette, Nick Frost, Richard Ayoade, Tracy Morgan, Simon Pegg, and newcomer Isaac Hempstead-Wright as the little boy Eggs. These oddball trolls and their protective cardboard shells will be waddling their way into theaters on their September 26, 2014 release date. Check out the Boxtroll teaser trailer and theatrical one-sheet poster below.