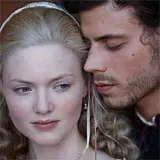 Showtime will release The Borgias: Season 1 on Blu-ray and DVD just after Christmas on December 27.
The Borgias stars Jeremy Irons as the patriarch of a powerful family in Renaissance-era Italy. The show, which co-stars Francois Arnaud, Colm Feore, Holliday Grainger, David Oakes, Lotte Verbeek and Joanne Whalley, follows the family's exploits which range from manipulation to scandal.
The Borgais: Season 1 on Blu-ray will be presented in 1080p video and 5.1 DTS-HD Master Audio. All of the bonus features will be accessible via BD-Live only, and none have anything to do with the show. They are the House of Lies Pilot Episode; First Episode of Dexter: Season 6; and Episodes 1 and 2 of Episodes.
Click here to pre-order The Borgias: Season 1 on Blu-ray for $45.99 at Amazon.com, 30 percent off the $65.99 list price.