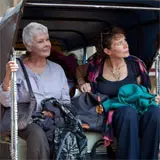 The Fox Searchlight film The Best Exotic Marigold Hotel from director John Madden will set up a Blu-ray and DVD residence beginning September 18.
Judi Dench, Bill Nighy, Tom Wilkinson, Dev Patel and Maggie Smith star in the comedy that revolves around a cash-strapped group of retirees. Looking for ways to celebrate their retirement on the cheap, the group "outsources" it to a resort in India and unexpectedly begins many aspects of their lives anew.
The Blu-ray edition of The Best Exotic Marigold Hotel will be presented in 2.35:1 1080p video and 5.1 DTS-HD Master Audio. It will includes the following extras, followed by the pre-order link, trailer and Blu-ray cover art:
Behind the Story: Lights, Colors and Smiles
Casting Legends
Welcome to the "Real" Best Exotic Marigold Hotel
Trekking to India: "Life is Never the Same"
Tuk Tuk Travels
Click here to pre-order The Best Exotic Marigold Hotel on Blu-ray for a discounted price at Amazon.com.