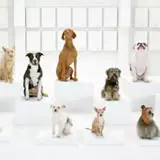 Last year, Volkswagen tapped into Star Wars for their Super Bowl commercial and easily scored the most memorable ad from the big game with a small boy trying to harness the power of the Dark Side to do his bidding.
For this year's Super Bowl between the New York Giants and New England Patriots, Volkswagen is once again calling upon Star Wars for their big Super Bowl spot, and has even put together a teaser commercial to set the stage. This one is definitely for the dogs.
In the teaser, called 'The Bark Side,' a collection of dogs dubbed the Canine Choir bark out 'The Imperial March' music from The Empire Strikes Back while hanging out on a set made to look like the Rebel Blockade Runner that Princess Leia used to escape from the Empire with the Death Star plans. Some of the dogs are in Star Wars costumes such as Wicket the Ewok, Chewbacca, Princess Leia, and of course, Darth Vader.
Toward the end of the spot, a dog walks across the screen dressed up like an Imperial AT-AT Walker, also from The Empire Strikes Back. This mutt gets the final bark in the teaser, more than one minute after the other dogs began their tune.
Volkswagen promises more to 'The Bark Side' will air during the Super Bowl on Sunday, February 5. In the meantime, they're inviting you to visit this website for an invitation to "see your name in stars on January 27," as well as create a customized Star Wars crawl that same day.