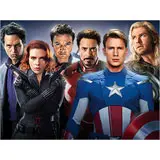 The first official look at The Avengers has arrived via Marvel and Entertainment Weekly. The image, featuring the team assembled, showed up today at Marvel.com as well as via EW as a sneak peek at their next issue's cover.
On the cover/image you've got Robert Downey Jr. as Iron Man, Scarlett Johansson as Black Widow, Chris Hemsworth as Thor, Jeremy Renner as Hawkeye, Chris Evans as Captain America, and Mark Ruffalo striking a pretty boy pose as Bruce Banner/The Hulk. Noticeably absent is Samuel L. Jackson as Nick Fury, though I suspect he's represented on the pages inside.
I'm still waiting to receive my issue in the mail, but will either scan and share the images when it arrives, or if someone else gets them scanned first, pass them along accordingly.
As for the article in the issue, EW teases that it will address the "egos, tempers, uneasy alliances and bad attitudes" that permeate The Avengers team, and the opposite camaraderie of the cast playing the roles. Apparently writer/director Joss Whedon wrote new dialogue on the fly depending on how scenes came together on the set.