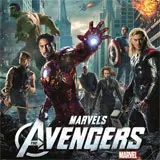 Marvel and Joss Whedon's The Avengers will enter its September 25, 2012 Blu-ray 3D, Blu-ray and DVD release date tomorrow riding a wave of steady pre-order demand. There's a strong chance The Avengers home video release will be the best of this year and possibly threaten some all-time records within its first week of availability.
I have been watching The Avengers Blu-ray 3D and Blu-ray combo packs on Amazon.com since they first went up for pre-order roughly two months ago. For the past several weeks, both versions have been firmly planted in the number one and number two positions on Amazon's hourly updated Blu-ray bestsellers chart.
The imminent success of The Avengers on Blu-ray shouldn't come as surprise considering what the superhero team-up has accomplished theatrically. At last check the film starring Robert Downey Jr., Chris Hemsworth, Mark Ruffalo, Chris Evans, Samuel L. Jackson, Jeremy Renner, Scarlett Johansson and Tom Hiddleston had earned $622 million at the domestic box office, putting it behind only James Cameron's Titanic and Avatar. Worldwide it also sits in third place with just over $1.5 billion in box office business.
Here in North America, online reviews for The Avengers have been scant as Marvel has controlled which media outlets were allowed to write about it before its release, despite it being available in other territories already. We were not included on Marvel's short list, unfortunately. Let's be honest; will reviews affect how well The Avengers on Blu-ray and Blu-ray 3D sold? Only negatively if there were a glaring problem with one of the discs.
Even then The Avengers would still sell like hotcakes.
Click here to buy The Avengers on Blu-ray or Blu-ray 3D at a discounted price with free shipping from Amazon.com.