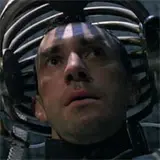 Terry Gilliam's 1985 opus Brazil starring Jonathan Pryce (Pirates of the Caribbean), Robert De Niro and Michael Palin will make its debut appearance July 14 on Blu-ray.
Universal Studios Home Entertainment is handling the Brazil Blu-ray release following a 2006 3-disc DVD set from Criterion and subsequent 2007 single disc release from Universal. Bonus features are not yet confirmed for the Blu-ray edition though a safe bet is the same production notes, cast and filmmakers commentary, and theatrical trailer that appeared on Universal's 2007 DVD will be recycled.
Brazil on Blu-ray will be presented in 1080p video and 5.1 DTS-HD Master Audio.
Enjoy a first look at the Brazil Blu-ray cover art below and look for more details and Amazon's pre-order link shortly.