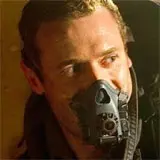 Terra Nova and its dino-sized budget premiered on Fox last night to ratings that were neither disappointingly low nor encouragingly high.
The two-hour Terra Nova premiere attracted 9 million total viewers and a 3.0 ratings in the 18-49 category, good enough for third on the night. It lost out to CBS' strong lineup behind 20 million viewers tuning in for the second episode of Two and a Half Men with Ashton Kutcher, and ABC's Dancing With the Stars.
The good news for Fox is that viewership held steady throughout the Terra Nova premiere despite Sunday Night Football featuring a big game between Dallas and Washington. It even managed an uptick in viewers for the last half hour, a good sign that next week's episode won't be hit by a huge ratings drop.
On the opposite end of the ratings spectrum is NBC's The Playboy Club whose abysmal premiere ratings dropped even lower in week two. Its 3.9 million viewers and poor 1.3 in the 18-49 category put it one piece of clothing away from losing the "who gets canceled first" round of Network strip poker.