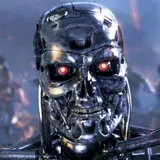 Warner Brothers has released the first teaser trailer for Terminator Salvation: The Future Begins, the fourth film in the installment and first of a new planned trilogy.
The teaser, which includes brief flashes of footage from the film, will be attached to prints of The Dark Knight beginning this weekend.
In Terminator Salvation, the Dark Knight himself Christian Bale takes on the iconic role of John Connor in a post-nuclear ravaged world ruled under Skynet. Sam Worthington, Anton Yelchin, Moon Bloodgood and Common are set to co-star.
Terminator Salvation: The Future Begins rolls into theaters next summer. Check out the teaser trailer in up to 1080p high definition over at Yahoo! Movies by clicking here.