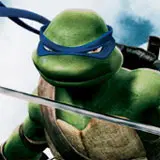 Teenage Mutant Ninja Turtles are returning with an all-new live action film and CGI-animated television show in 2012. If you have a toddler they might be screaming "Cowabunga, Dudes!" three years from now.
The news comes from Variety and confirms the TMNT property including merchandising rights have been snatched up by Viacom for a cool $60 million. It had been with the Mirage Group since 1984.
Paramount will steer the live action film to the big screen while Nickelodeon takes up responsibility for providing the television series. Galen Walker, who co-produced the TMNT CGI-film, will co-produce the live-action film with Where the Wild Things Are producer Scott Mednick.