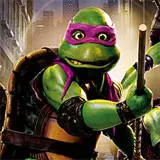 Warner Home Video has pushed back the Blu-ray Disc debut of all four Teenage Mutant Ninja Turtles movies by one week.
The elaborate set with pizza discs was originally announced for an August 4 release. As confirmed by Warner late yesterday, the new release date is August 11.
Everything else about the set remains unchanged so you'll still get Teenage Mutant Ninja Turtles: The Movie, Teenage Mutant Ninja Turtles II: The Secret of the Ooze, Teenage Mutant Ninja Turtles III: Turtles in Time and TMNT in high definition along with an exclusive reproduction of the TMNT: The Movie comic book, an exclusive original sketch with creator Peter Laird's autograph, collectible character cards and a TMNT beanie hat.
The Teenage Mutant Ninja Turtle 25th Anniversary Blu-ray Collection carries a retail price of $84.99. You can pre-order a set right now at Amazon.com for $58.99 by clicking here.