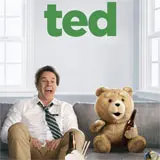 Ted was a much needed unexpected hit for Universal Studios this past summer, especially after Battleship fired blanks in May. The R-rated comedy starring Mark Wahlberg, Mila Kunis, and the voice of creator/director Seth MacFarlane has racked up over $450 million in worldwide box office ticket receipts off an estimated budget of around $50 million. Not too shabby for a movie starring a foul-mouthed talking teddy bear .
The next domain for Ted to conquer is home video and that operation will commence on December 11, 2012, the official release date for Ted on Blu-ray and DVD as announced by Universal Studios Home Entertainment this morning. In addition to the theatrical cut, the two-disc Blu-ray and DVD combo pack edition will include a new unrated cut that runs 1 hour 47 minutes – a whopping minute over the 1 hour 46 minute theatrical run time. You can pack a lot of naughty jokes into an extra minute so let's hope MacFarlane delivers.
Ted on Blu-ray, regardless of the cut, will be presented in 1080p video and 5.1 DTS-HD Master Audio. A digital copy and UltraViolet will also be packed in. Bonus features include:
Alternate Takes
Gag Reel
Ted: The Making Of
Teddy Bear Scuffle
Feature Commentary with Director/Co-Writer Seth MacFarlane, Co-Writer Alec Sulkin and Star Mark Wahlberg (Theatrical Version Only)
Click here to pre-order Ted on Blu-ray and DVD combo for $23.99 at Amazon.com, 31% off the $34.98 list price. Cover art is below.