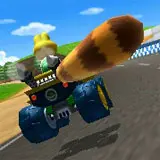 The Tanooki Tail is coming to Nintendo's Mario Kart 7 for 3DS this December, offering both defensive and offensive capabilities for those who wield it.
In defensive mode, the Tanooki Tail is capable of swatting away incoming shells that would otherwise temporarily knock you over. Whether it's capable of deflecting an incoming fireball is unknown. My guess would be a fireball would burn it up, but you never know.
As an offensive weapon, the Tanooki Tail is capable of swatting other races right off the track. You'll need to be close enough to use it, but it could prove to be as effective as a shell with added ability of defense.
Fans of the Tanooki tail will also find it in Super Mario 3D Land, arriving exclusively on Nintendo 3DS next month.
These new Mario Kart 7 screens also reveal Shy Guy as a playable driver in the game. The more new characters hopping in a kart, the merrier.
Click here to pre-order Mario Kart 7 for 3DS at Amazon.com, in stores on December 4.