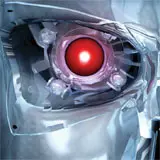 There was absolutely no chance Lionsgate Home Entertainment would sit idle on an opportunity to release the umpteenth version of Terminator 2: Judgment Day on home video with another entry in the saga hitting theaters on May 21. At least this time the offering will be extremely hard to top.
On May 19, Lionsgate will release T2: Judgment Day on Blu-ray Disc in an all-new "Skynet Edition" maxed out with a new THX-approved 1080p transfer of multiple versions of the film (likely via seamless branching), 6.1 DTS-HD Master Audio and D-BOX Motion Control Code.
Not stopping there, Lionsgate is including 8 hours of interactive bonus features ranging from games to picture-in-picture to BD-Live applications all crammed onto a single BD-50 disc.
Picture-in-picture of behind the scenes video, text commentaries and multimedia galleries
Storyboard-script mode – view storyboards and read the script while watching the film
Interactive quizzes and games
BD-Live enabled, featuring games, extra content and more for Internet-connected players
Audio commentary with 26 cast and crew members
Audio commentary with director James Cameron and co-writer William Wisher
Includes THX Optimizer
In addition, Lionsgate is packaging the new Skynet Edition with the Extreme Edition DVD and Ultimate Edition DVD versions into a Limited Edition T2 Complete Collector's Set. Paired with a digital copy of the film, these six discs together include every bonus feature ever produced for Terminator 2.
Better yet, all six discs in the Limited Edition T2 Complete Collector's Set will come with a 14″ T-800 Endo-skull bust that plays sound effects from the film while its eyes glow red.
With a retail price of $174.99 the Limited Edition T2 Complete Collector's Set doesn't come cheap. That's why the Skynet Edition is available separately for a mere $29.99.
In addition to the images and video below that Lionsgate provided to IGN, click through the disc details to view a larger version of the Skynet Edition Blu-ray cover art.