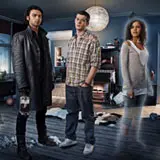 When Syfy was recently asked via Twitter why they were not considering picking up Joss Whedon's Dollhouse from Fox, the response was along the lines of "we are already working on a solid slate of new original programming."
Per The Hollywood Reporter, one of those new shows designed to fit into Syfy's new broader appealing image alongside Warehouse 13 is a U.S. version of the hit BBC show Being Human. A full 13 episode order has been placed.
Being Human revolves around a twenty-something werewolf, vampire and ghost living as roommates and learning from each other how to survive in a human world.
Six episodes of Being Human were produced for the BBC and became an instant hit. A second season of eight episodes has already been ordered. The original six can be caught in reruns on BBC America.