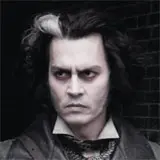 Online retailer DVDEmpire.com has begun taking pre-orders for Tim Burton and Johnny Depp's Sweeney Todd: The Demon Barber Of Fleet Street on Blu-ray Disc with a release date of October 21.
If you recall, Sweeney Todd was originally scheduled for an April 1 appearance on HD DVD. When Paramount pulled the plug on HD DVD support, Sweeney Todd got the immediate ax.
Paramount could have released Sweeney Todd on Blu-ray earlier as it was essentially "in the can" for HD DVD. The Halloween season is far more fitting from a marketing perspective, so October 21 it is.
Sweeney Todd on Blu-ray should include identical supplements to what was planned for HD DVD. Video will be widescreen 1.85:1 1080p and audio will feature 5.1 DolbyTrueHD.
The SRP on Sweeney Todd will be $39.99. Check back regularly for high resolution cover art and Amazon.com pre-order information.