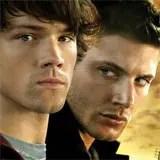 Warner has chosen September 1 as the launch date for season four of Supernatural on Blu-ray Disc after the set has been up for pre-order at Amazon without a release date or any additional information since April 19.
Finalized details reveal Supernatural: Season Four starring Jared Padalecki and Jensen Ackles on Blu-ray will span four discs and be presented in 1.78:1 1080p video and 5.1 Dolby Digital audio.
The DVD version, releasing day-and-date, will share bonus features with Blu-ray as follows:
The Mythologies of Supernatural: From Heaven to Hell – Three section featurette gallery bridging Heaven, Purgatory and Hell to examine key mythological precepts
Commentary on 3 Key Episodes by Executive Producers and writers
Extended/Unaired Scenes
Gag Reel
Supernatural: Season Four on Blu-ray will include a slipcover as seen below. You can pre-order the set for $55.99 at Amazon.com by clicking here.