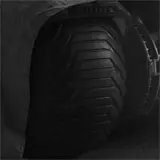 Zack Snyder's Superman vs Batman will introduce a brand spanking new live-action Batmobile that was teased today, and we will all get our first glimpse at it in roughly 24 hours.
Snyder took to Twitter this morning and unveiled the new Batmobile all covered up in an abandoned warehouse setting. From the rear it appears to have high spoilers, some fat back tires ala the Tumbler, and an elongated nose ala the Tim Burton Batmobile. Not surprisingly it appears to be all black, though the teaser image is in black-and-white.
The tweet reads, "Could be time to pull the tarp…Tomorrow?" and was quickly followed up by another tweet by Geoff Johns, Chief Creative Officer of DC Entertainment. His reply to Snyder's question was simply, "YES." Consider that as official confirmation.
With production gearing up on Batman vs Superman, or whatever else Snyder decides to call it, expect the Batmobile to be the first of many reveals including the suits for Batman (Ben Affleck), Superman (Henry Cavill) and Wonder Woman (Gal Gadot). We might even get a teaser for Lex Luthor (Jesse Eisenberg).
Batman vs Superman is due for release on May 6, 2016. Click the image below to view the high resolution Batmobile tease.