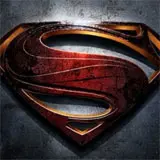 Superman flies back onto the big screen next year in Zack Snyder's Man of Steel, an all-new take on the famed DC Comics superhero starring Henry Cavill that Warner Bros. hopes recaptures the reboot success of Christopher Nolan's Batman Begins. We've been waiting a long time for the big Man of Steel footage reveal, and the wait has been worth it.
Two slightly different Man of Steel trailers were attached to The Dark Knight Rises and both of them have come online for everyone to see via Yahoo! and MSN. The only difference between them is the narration; one is handled by his human father Jonathan Kent (Kevin Costner), and the other by his Kryptonian dad Jor-El.
These trailers are a glimpse at the first Comic-Con footage that debuted exactly a week ago in San Diego. That footage was much more extensive and featured multiple shots of Henry Cavill in full Superman gear. The only Superman sighting in the public versions shows the "Man of Steel" soaring high into the sky and presumably into and through earth's atmosphere, perhaps on his way to Krypton.
Many fans of film – myself included – are drawing comparisons to Terrence Malick's directorial style which Zack Snyder appears to be channeling. The fascination with inanimate objects and earth's natural beauty in a dreamlike presentation is straight out of Malick's playbook. I'd like to think of this trailer as the "Tree of Clark Kent's Life."
You can also pick up on the fingerprints of producer Christopher Nolan and writer David S. Goyer in the footage. Clark's upbringing and struggles on earth to find himself, especially seen as he works aboard a deep sea fishing vessel, bring back imagery from Batman Begins. In many respects this film is "Superman Begins" and is designed to take over the audience of Nolan's Batman franchise, so the comparisons are not unexpected or unwarranted.
The countdown to Man of Steel is under a year with the film set to arrive in theaters on June 14, 2013. It was originally slated for a December 2012 release, but was then pushed back to distance it from The Dark Knight Rises and perform as a comic book tentpole in summer 2013.