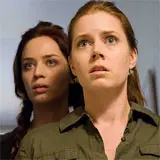 Overture will release the indie drama Sunshine Cleaning on Blu-ray Disc August 25, day-and-date with DVD.
Sunshine Cleaning stars Amy Adams, Emily Blunt and Alan Arkin in a story about two squabbling sisters and their family who finds themselves in need of quick cash. It made a modest $11.5 million during its theatrical run back in March.
Tech specs for Sunshine Cleaning are not available at this time. I will pass along any updates when received.
Sunshine Cleaning on Blu-ray has a retail price of $39.98. Click here to pre-order it for $27.99 at Amazon.com.