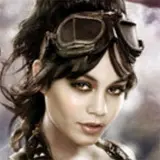 Zac Snyder's Sucker Punch starring Emily Browning, Abbie Cornish, Jena Malone, Vanessa Hudgens, Jamie Chung and John Hamm failed to connect with audiences theatrically after earning a disappointing $36.2 million domestically. Next the fantastical CGI-action flick will shoot for bigger returns when it heads to home video this summer.
Warner Home Video has announced a June 28 release date for Sucker Punch on Blu-ray and DVD combo format, packing a new 127-minute R-rated director's cut that adds almost 18 additional minutes to the theatrical cut (also included). Both versions will be presented in 1080p video and 5.1 DTS-HD Master Audio.
A partial list of supplemental features include Maximum Mode Mode with Snyder and the Sucker Punch animated prequel stories shorts, and more. Additional features will be passed along when they're revealed.
Click here to pre-order Sucker Punch on Blu-ray for $24.99 at Amazon.com, 31% off the $35.99 list price.