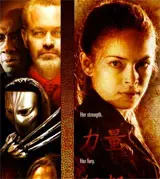 Fox Home Entertainment has announced a June 30 bow for Street Fighter: The Legend Of Chun-Li on Blu-ray Disc and DVD.
Street Fighter: The Legend Of Chun-Li starts Smallville actress Kristen Kreuk as the title character who battles the Shadaloo syndicate in the slums of Bangkok.
The Blu-ray Disc edition of Chun Li includes the theatrical and a new unrated cut. It will be offered with 2.35:1 1080p video and 5.1 DTS-HD Master Audio.
Bonus features will be nearly identical between DVD and Blu-ray with the latter including one exclusive: Street Fighter: In Movie Enlightenment. No description was offered for this feature but a best guess is some sort of BonusView track.
The remaining features are as follows with a digital copy on disc two and animated comic on disc three.
Theatrical and Unrated feature
Audio Commentary by Patrick Aiello, Ashok Amritraj, Neal McDonough and Chris Klein
Street Fighter: In Movie Enlightenment
14 Deleted Scenes
Marvel vs. Capcom 2: Sneak Peek
Becoming a Street Fighter
Chun Li: Bringing the Legend to Life
Fox Movie Channel Presents Making A Scene
Recreating the Game: Arcade to Film Comparisons
The Fight in Black and White: Storyboard Gallery
Behind the Fight: Production Gallery
Unrated Digital Copy
Disc 3 – Street Fighter Round One: FIGHT! Animated comic movie
Fox has given Street Fighter: The Legend of Chun-Li a $39.99 retail price. You can currently pre-order it for $35.99 by clicking here.