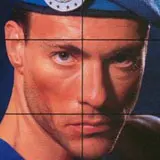 Universal Studios Home Entertainment is dusting off the cobwebs on the live-action Street Figther movie starring Jean-Claude Van Damme and releasing it on Blu-ray Disc as a new Extreme Edition package on February 10, day-and-date with DVD.
The release date intentionally perfectly coincides with Capcom's street date for Street Figther IV on Xbox 360 and Playstation 3. There's no word at this time if Capcom and Universal will team up to offer the pair as a two-pack.
Street Fighter: Extreme Edition on Blu-ray will be presented in widescreen 1080p video and 5.1 DTS-HD Master Audio.
Extra features have been expanded upon since the film's first DVD release three years ago including the inclusion of Street Fighter IV goodies. The full list is as follows.
Street Fighter IV Game Trailer
Street Fighter IV Game Teaser Trailer
Street Fighter IV Anime Trailer
The Making of Street Fighter
Outtakes
Deleted Scenes
Storybord Sequences
Video Game Sequences
Cyberwalk
Archives
Feature Commentary with Director Steven de Souza
My Scenes
BD Live
Street Fighter: Extreme Edition on Blu-ray will retail for $29.98. We'll add high resolution cover art and Amazon pre-order information once available.