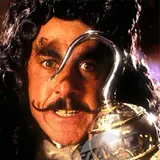 Steven Spielberg's Hook has set a new course for Blu-ray according to a new pre-order listing that has popped up at Amazon.com over the weekend.
Hook was first released on home video back in March, 2000 on DVD, and has not been seen since. It stars Robin Williams as an adult Peter Pan, Dustin Hoffman as Hook, Maggie Smith as an older Wendy, and Julia Roberts as Tinker Bell.
I haven't seen Hook since that first DVD release so its Blu-ray debut presents the perfect opportunity to reacquaint myself with the upside-down story of the boy who never wanted to grow up finding himself all too grown up.
With an SRP of $19.99, don't expect Hook on Blu-ray to include much in the way of bonus features, if any. If Sony has some planned then I'll be sure to pass them along. At minimum look for the Blu-ray cover art in the days ahead.
Click here to pre-order Hook on Blu-ray for $13.99 at Amazon.com.