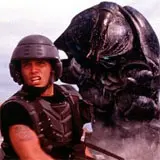 Sony Pictures Home Entertainment has released the final disc specs and cover art for Starship Troopers on Blu-ray Disc, available separately and as part of the Starship Troopers Trilogy on August 5.
Starship Troopers on Blu-ray will be presented in widescreen 1.85:1 1080p video and either English or French 5.1 Dolby TrueHD audio.
The old special edition DVD extras will be ported onto Blu-ray and joined by a handful of all-new next generation home video features.
The exclusive Blu-ray features include FedNet Mode offering Bonus View picture-in-picture support with additional enhanced graphics; an interactive Recruitment Test; Blu-Wizard for accessing material quickly; and BD-Live connectivity to download additional exclusive features.
Additional extras previously seen on DVD are as follows.
Audio Commentary With Director Paul Verhoeven and Writer Ed Neumeier
Audio Commentary With Director Paul Verhoeven and Actors Casper Van Dien, Dina Meyer, and Neil Patrick Harris
Isolated Score With Commentary By Composer Basil Poledouris
Filmographies
Death From Above Documentary
Know Your Foe Special Effects Featurettes
The Starships of Starship Troopers
Special Effects Comparisons
Storyboard Comparisons
The Making of Starship Troopers
Conceptual Art Galleries
Scene Deconstructions With Commentary By Paul Verhoeven
Deleted Scenes
Screen Tests
Theatrical Trailers
Starship Troopers on Blu-ray will carry an SRP of $28.95. Pre-orders have not yet commenced at Amazon.com for the standalone version, but they are currently active for the Starship Trilogy Blu-ray set (view pricing and pre-order here).