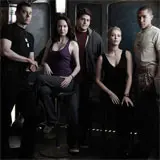 Syfy's new gritty entry in the Stargate franchise, Stargate Universe (SG-U), will be making its way to Blu-ray Disc and DVD on February 9.
MGM has elected to break the first partially aired season into separate releases for home video. Season 1.0 will include the first 9 episodes while the remaining episodes will appear in a yet-to-be-announced set later in 2010.
The Stargate franchise has eluded Blu-ray adopters for some time. While the feature film has seen multiple releases already, the only representation from the multiple television shows thus far has been a best-of compilation from Stargate Atlantis. SGU marks the first foray by MGM into Stargate season sets.
List price for Stargate SGU: Season 1.0 is set at a steep $69.99, especially considering you are only getting half a season. Amazon.com is currently offering the set via pre-order for a more reasonable $38.99. Click here to secure your copy.