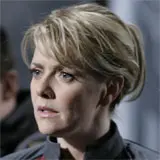 MGM Home Entertainment has issued a formal press release detailing the August 4 release of Stargate Atlantis: Fans' Choice on Blu-ray Disc. With the announcement comes some somber news for Atlantis fans.
First, the good news. The Fan's Choice voting results in over 20,000 votes cast picking the pilot Rising and series finale Enemy at the Gate as the top two episodes which comprise this set.
Now, the bad. In MGM's words, "The Stargate Atlantis Fans' Choice Blu-ray Disc is the only high definition release planned for the Stargate: Atlantis series."
To put this in perspective, MGM will likely be closely gauging the success of this Fans' Choice Blu-ray set to determine if, sometime in the future, they should begin "planning" to release full season sets. Money talks, so if you want to see those seasons released in high definition, make sure you and your buds snatch up the Fans' Choice set on August 4.
Check out the newly released high-res Stargate Atlantis: Fans' Choice Blu-ray cover art below, or click here to pre-order a set from Amazon.com.