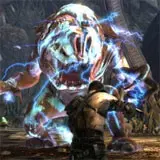 LucasArts is adding a little more variety into Star Wars: The Force Unleashed in hopes of keeping it relevant in gamers' libraries during the onslaught of big October and November releases.
The first of multiple costume packs is now available for download for Xbox 360 and Playstation 3 via Xbox Live Marketplace and the Playstation Network, respectively.
Installing the pack will allow you to play through the game from beginning to end disguised as one of ten new characters. Who, you wonder? Here's the list.
Hooded Combat Gear
General Starkiller
Sith Assassin
Imperial Commando
Jedi Knight Anakin Skywalker
Jedi Knight Obi-Wan Kenobi
Jedi Knight Luke Skywalker
Darth Sion
Ki-Adi-Mundi
Kit Fisto
New themes and pictures packs were also made available today for download.