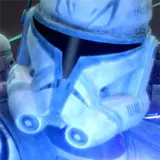 Update: The premiered date for Star Wars: The Clone Wars Seasons 1-5 (including many director's cuts that didn't air on TV), as well as the never-before-aired Season 6, is set for Friday, March 7. Expect excessive Season 6 binge viewing to occur over the first weekend of availability.
Original article (February 13): Netflix has stepped up and formed a partnership with Lucasfilm and the Disney/ABC Television Group that will allow them to premiere Star Wars: The Clone Wars Season 6, the final episodes, starting on March 7, as well as all past episodes of the hit animated series.
The deal marks the first time that any kind of Star Wars content has been made available on Netflix. It's not just any content as Season 6 of The Clone Wars never aired on the Cartoon Network and to date has not been seen outside the confines of Lucasfilm and Disney.
The Clone Wars Season 6 has been dubbed 'The Lost Missions' and will run a total of 13 episodes. Past episodes of The Clone Wars offered on Netflix will include the feature-length film that kicked off the series and introduced Ashoka Tano, as well as new director's cuts spanning Seasons 1-5 with additional footage that did not appear on television.
The official synopsis for 'The Lost Missions' reads as follows, "An intrepid clone trooper discovers a shocking secret, Anakin Skywalker's closest relationship is tested to its limits, and what Master Yoda discovers while investigating the disappearance of a Jedi could forever change the balance of power in the galaxy."
Netflix will be the exclusive outlet to online stream Star Wars: The Clone Wars under the new pact. In addition as previously announced, beginning in 2016 Netflix will be the exclusive US subscription television provider for all first-run, live-action and animated movies from Disney's bevy of businesses including Pixar Animation Studios, Disney Animation Studios, Lucasfilm, Marvel Studios and Disneynature.
The first of five Marvel television projects will premiere exclusively on Netflix in 2015 and delve into the Hell's Kitchen superheroes including Daredevil.
Source: StarWars.com