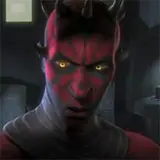 Star Wars: The Clone Wars kicks off its fifth season this upcoming Saturday, September 29 in its new Saturday morning time slot after airing on Friday nights the previous four seasons. This season promises to hopefully be the best yet with the return of an old horned friend.
In this new clip from Star Wars The Clone Wars Season 5, Savage Opress and his recently rescued brother Darth Maul are getting along fine until it comes time to develop a plan to fight the Jedi. Darth Maul is quick to tell his brother that there are always two Sith, a master and an apprentice, and that he is the master. Opress doesn't take too kindly to his demotion and then the fun begins.
Neither of these characters are in existence by the beginning of Star Wars: Revenge of the Sith, so one of them is likely to kill the other. I'd put my money on Darth Maul taking out Opress, then Obi-Wan and the Jedi disposing of Maul once and for all.
Click here to pre-order Star Wars: The Clone Wars Season Four on Blu-ray for $41.99 at Amazon.com, 30% off the $59.99 list price. It will be available to ship for free on October 23.