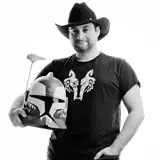 Dave Filoni is the man who, with sagely input from George Lucas, steers Star Wars: The Clone Wars ship. He's been with the series since day one, and will probably ride it until the end meets up with the beginning of Revenge of the Sith.
The great thing about Dave running The Clone Wars is he was a die-hard Star Wars fan before taking on the challenge of running the show. With his animation experience ranging from King of the Hill to Nickelodeon's Avatar: The Last Airbender comes a burning desire to tell the stories with the characters that fans will be excited about and want to see.
Dave was kind enough to take some time out of his chaotic schedule to answer some questions about The Clone Wars season 4 for us as part of our weeklong feature on the new season. He talks about some new environments the show will journey to, some old faces that will reappear, and what he and his team view the season's objective to be.
The Clone Wars season 4 is being referred to as "Battle Lines." There's evidence of this in the premiere episode featuring a massive underwater battle. How does the subtitle fit in with the season as a whole?
I think the title speaks to the overall sense of scale in our fourth season. We are placing more characters in scenes, so the battles are much larger than ever before. On the production side, there's a real commitment to getting this show up to the epic scale that the theatrical Star Wars films are known for. So, the "Battle Lines" are drawn on the screen and in our own studio. To the crew, it's about making this show the best it can possibly be.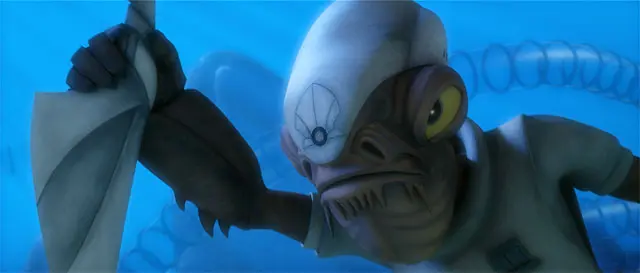 Every season thus far has begun with a massive battle. Last season's was my personal favorite, and the story of 99 is some of the most emotionally charged writing the show has seen yet. Is it a conscious creative decision to frame a large conflict to kick off each season?
Not necessarily. Each season I look at all of the stories we are doing and think – 'What will grab the most attention? What will have the biggest impact?' Large scale battles seem to fit that criteria. Television viewers have a lot to choose from and we want to deliver episodes and storylines that are bigger and better than ever before.
Season 3 upped the ante on classic characters making appearances including Tarkin, Chewbacca and Greedo. We've already seen Captain Ackbar in the season 4 premiere. Can we expect other classic cameos this season?
There are saga cameos in season 4, absolutely. In some cases, characters from the films play a large role in new storylines. I can't say specifically which characters, but I will say that Boba Fett will be back. We haven't told a story with him since Season 2, but he's back alongside Bossk and Dengar – another classic Bounty Hunter from The Empire Strikes Back.
What are some of the storylines you're most excited to tell in season 4?
I'm pretty excited about this entire season, to be honest. A few episodes that stand out are the opening arc with the Mon Calamari and our clone centric episode arc with Captain Rex on the new mysterious planet of Umbarra. I think there are some great things in those episodes that will surprise our fans, and the battles in that arc are arguably bigger and more intense than the premiere. The entire fourth season has so much to offer and it ends with a bang. Some very unexpected things happen by the end of this season.
The Mortis Trilogy was a big gamble for its physical representation of "The Balance of the Force." Have we seen the last of the other "realm," or is there more of this story to tell?
We will expand on the ideas we explored in the Mortis realm, but not this season. The nature of the Force, and the fate of the Chosen One, are critical subjects for Star Wars as a whole. When George introduced us to the concept of Mortis and what followed it, we were very careful with how we wrote and shot the ideas.
More than anything else on this show, the nature of the Force is taken straight from George. It's the center of the story he created and we make sure to remain faithful to it. There's more to come in time, but not even Yoda fully understands what transpired on Mortis yet.
In other interviews you've talked about bouncing around ideas for Ahsoka's exit. Are you are closing to nailing it down?
I know what I would like to happen, and I have pitched those ideas to George. We've discussed it a couple times and have gone back and forth on some concepts. Ahsoka's fate is something we all take very seriously. We'll have to wait and see how her story unfolds.
How about Captain Rex and Savage Opress? Have you figured out their non-appearance in Revenge of the Sith yet?
Yes and no, but maybe not in that order.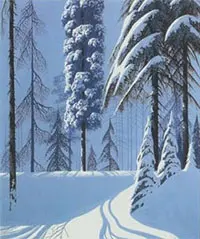 One of my favorite episodes from season 1 was Trespass. Any chance of returning the action to a snowy location?
We are absolutely going to a snow planet this season. It has a very Japanese feeling to it, somewhat based on paintings by Eyvind Earle.
Have we seen the last of Jabba the Hutt? I was hoping his Sail Barge could get into the action somehow after making a brief appearance in The Clone Wars movie.
Jabba's still around, and still a player in the Clone Wars Universe, though not so much this season. I'd love to get the Sail Barge in, but we'll have to see.
Darth Maul. You've teased he's still hanging around after being sliced in half in The Phantom Menace. I assume that was "not so subtle" foreshadowing of what's to come in season 4?
It's seems unlikely that he's alive, being cut in half, but then again… we'll it does seem unlikely, doesn't it?
I believe you mentioned over the summer that season 5 is already underway. How is that coming along?
I really like what we are doing in Season 5. Each season seems to get better. There are some things in this season and the next that fans are going to go ballistic for. Hopefully everyone will enjoy the ride.
If you haven't already, please check out our The Clone Wars interviews with CG Lighting & FX Supervisor Joel Aron, and Ashley Eckstein (Ahsoka Tano). Keep an eye out for our next feature on The Clone Wars season 4 on Thursday.
Special thanks to Dave Filoni and the PR crew at LucasFilm.