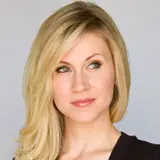 Padawan Ahsoka Tano has come a long way since her debut in The Clone Wars film a little over three years ago. Similarly, the actress who voices her, Ashley Eckstein, has seen her multifaceted career grow and blossom since taking on the Star Wars challenge.
In the second part of our week-long feature on season 4 of The Clone Wars leading up to this Friday's premiere, we talked to Ashley about her character's progression over the seasons, some of the challenges in voicing the character, and where she's drawn inspiration. Ashley also updates us on her clothing business, Her Universe, as well as a couple new non-Star Wars projects she has in the works.
The Clone Wars was your first professional foray into the world of Star Wars. Since then you've continued to voice Ahsoka Tano in both the show and video games, essentially leaving the live-action world behind for now. Did that career transition surprise you?
Being able to originate a Star Wars character has been a dream come true. Being the voice of Ahsoka Tano is truly the role of a lifetime, and I sometimes look back and am amazed at the direction my career has taken. I wouldn't change a thing!
Being the voice of Ahsoka has opened up so many doors and has also allowed me to realize one of my dreams, to be a fashion designer. I have been designing clothes ever since I was 10 years old and because of my involvement in Star Wars, I was able to launch my own merchandise line for female Sci-Fi fans called, Her Universe. I have not left the live-action world behind, but I am just taking my career one day at a time and making the most of the opportunities that are in front of me.
Ahsoka has come a long way from The Clone Wars movie and calling Anakin "Sky Guy." In season 3, she even upgraded her wardrobe to exemplify her growth. Are you consciously looking to evolve Ahsoka's voice from season to season?
It is very much a conscious choice to evolve Ahsoka's voice from season to season. If you listen to Ahsoka's voice in the movie compared to the season 3 finale, you can definitely tell a difference. I've lowered my voice a bit as the series goes on and I've tried speak with more confidence, authority and control. Ahsoka is no longer the snippy side kick!
In the Mortis Trilogy last season, Ahsoka got to take a walk on the Dark Side as well as the Old Side. Did you look toward any specific inspiration when voicing evil and elder Ahsoka?
We record our lines for an episode before they do the animation, so we do not get to see anything when we are performing. We rely heavily on our director, Dave Filoni. Fortunately, Dave is one of the best director's I've ever worked with! He knows what he wants and he knows how to direct each one of us to get the performance he's looking for. We also record as a cast, so we had several people in the booth when we worked on these episodes. James Arnold Taylor, the voice of Obi-Wan Kenobi, gave me some great advice on how to bring evil Ahsoka to life.
Without getting into spoiler specifics that LucasFilm would hunt you down for divulging, how can we expect Ahsoka to further develop in season 4?
Look for Ahsoka to continue to mature and grow up. She is given more responsibility without others second guessing her authority or capabilities. Season 4 is action packed and is all about the battles. Look for Ahsoka to kick some butt this season.
Dave Filoni has openly discussed having ideas about the fate of Ahsoka considering she's absent from Revenge of the Sith. Are in already in on the secret or still waiting to see how it all shakes out like the rest of us?
I am in on the ideas but if the secret is decided upon already, I am unaware of the outcome. Dave and I chat all the time about Ahsoka's future and I trust Dave immensely to come up with the best possible storyline for Ahsoka and the over all Star Wars story.
At Comic-Con you mentioned having a couple new projects in the works; one voicing an animated character and the other a Disney project. Are those both still hush-hush, or can you tell us a little about them?
I am the voice of Zoe in the upcoming animated feature film from The Weinstein Company and Rainmaker Entertainment called, Escape From Planet Earth. The film is slated for release in the US in 2012. I am also working on a new show for The Disney Channel, but I can't say too much just yet. It's an amazing project and it's also a musical where I get to sing! It's classic Disney!
You've definitely embraced Sci-fi with Ahsoka and Her Universe, your Sci-fi fangirl merchandise line. What can we look forward to from Her Universe heading into 2012?
Look for Her Universe to start moving into the retail space and expanding by adding new licenses! We are not trying to say that Sci-fi is just for girls, we are trying to say that Sci-fi is for everyone and we want to make merchandise options equal for both men and women. Look for new Star Wars and Syfy merchandise and hopefully a new property that we are in talks with now!
What does your husband think about all the Sci-fi fangirl stuff? I'm a sports nut and love Sci-fi, so I know it's possible to be into both!
My husband is extremely supportive and has been helping me with Her Universe all year long! He is new to the Sci-Fi genre, so he has a lot to learn, but he's been traveling around with me to Disney's Star Wars Weekends, San Diego Comic-Con and Dragon*Con. We've been having a great time and he is definitely into both. He'll go with me to a convention all day and watch football and baseball games all night!
Finally, I can imagine you having quite a few Hasbro Clone Wars action figures by your computer. Am I right?
I travel way too much, so I use a lap top computer. However, I do have a pretty cool Star Wars walk-in closet. You open the door and it's Star Wars from the floor to the ceiling.
Be sure to check out our interview with The Clone Wars CG Lighting & FX Supervisor Joel Aron, and look for our next feature on The Clone Wars season 4 tomorrow.
Special thanks to Ashley Eckstein and the PR crew at LucasFilm.