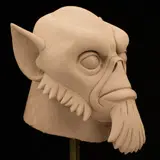 With the arrival of Toy Fair and a slew of revealing Star Wars Rebels products from Hasbro and Lego, Lucasfilm Animation and Disney have taken the wraps off two more members of the Ghost and early roots of the rebellion in Zeb and Ezra.
Zeb is considered the muscle of the Ghost ship much like Chewbacca was the muscle of the Millennium Falcon in the original Star Wars trilogy (and upcoming trilogy? to be determined). In fact, his designed is based off early sketches by concept artist Ralph McQuarrie for Chewbacca, though his species will be a new introduction to the Star Wars universe.
Steve Blum (Marvel's Hulk and the Agents of S.M.A.S.H.) provides the voice for Zeb, a member of the honor guard who his highly trained and not one to cross. He hates Chopper the droid, must begrudgingly build a relationship with the young Ezra, and loves stomping Stormtroopers, or "bucket heads" as the crew of the Ghost refer to them as.
Ezra, voiced by Taylor Gray, is a young survivalist who does whatever it takes to get by, including petty crime such as pickpocketing. Like Han Solo before him he's street smart and will be swept into the rebellion, though unlike Han the Force is with him, though young Ezra won't know what that means until Jedi Kanan begins to mentor him.
The Ghost's crew will become Ezra's surrogate family and though he initially has no interest in combating the Empire and would rather steal from them when necessary, he begins to learn what it is to care about other people and the cause, to trust others, and ultimately work toward trying to topple the Empire one Stormtrooper and Tie Fighter at a time.