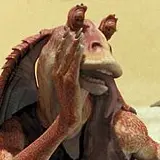 "May The 4th Be With You" has turned out to be a social media driven viral marketing campaign by LucasFilm and Fox Home Entertainment for the upcoming September release of Star Wars: The Complete Saga on Blu-ray Disc.
The "May The 4th Be With You" website went live this morning at 6am PST. Immediately upon doing so, the LucasFilm server was inundated with traffic and crashed. Even more than hour later, the server is still struggling to load the flash page in a timely manner.
What we can gather from the "May The 4th Be With You" is that LucasFilm and Fox are using Twitter and Facebook to drive awareness for the upcoming Star Wars Blu-ray releases: The Complete Saga, Original Trilogy, and Prequel Trilogy. There's a reveal video that plays to the percentage of "shares" that site visitors have completed, and statistics at the bottom of the page that show which countries are submitting the highest number of "shares." At the time of this article, 10% of the required "shares" were met so 10% of the video plays.
On the "share" pop-up window we get our first look at the Star Wars Prequel Trilogy Blu-ray cover art (see below). By the end of this reveal, however long it takes, we should get to see the cover and full contents for all three sets.
Each of the Star Wars Blu-ray sets have been available for pre-order at Amazon.com for a couple months. Sales were initially strong, but now all three have dropped out of Amazon's top 10 bestsellers chart for Blu-ray.
Click here to pre-order Star Wars: The Complete Saga on Blu-ray for $89.99 at Amazon.com (36% off the $139.99 list price), or visit the "May The Fourth Be With You" website to do your part in the "share" exercise.