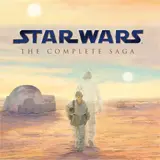 Star Wars Day is today, or as the saying goes after a peek at a calendar, "May the Fourth Be With You." You don't need to dress up as Darth Vader, swoosh around a lightsaber or wear a signature George Lucas flannel shirt to celebrate. Simply bust out that saying and consider your celebratory obligations complete.
Online retailer Amazon.com is celebrating Star Wars Day a little differently considering their business model. They obviously have some geeks on the payroll as Star Wars has completely taken over their Gold Box Deals section. Star Wars is the Deal of the Day. It's all the Lightning Deals. It has penetrated and surrounded every Amazon daily deal going on today.
The big deal is the Gold Box Deal of the Day which has put Star Wars: The Complete Saga on Blu-ray at a discounted sale price. The price cut isn't huge, per se, but at $78.99, that's about $10 less than the $90 it typically sells for. Tack on no shipping and it's a great way to pick up the six-film saga and Lucas' latest tinkers and tweaks.
Click here to buy Star Wars: The Complete Saga on Blu-ray for $78.99 at Amazon.com.
Various other Star Wars items are on sale via Lightning Deals that will be running throughout the day. There will be books, posters, games, watches; you name it.
Happy Star Wars Day to you all. May the Fourth Be With You.