Nestled deep within a maze of hallways at LucasFilm, LucasArts and ILM's headquarters in San Francisco, California is a small sound mixing room with a sparse collection of Star Wars memorabilia both in front of and behind an imposing wall of glass. It's here that myself and a small group of journalists are introduced to Matthew Wood, Supervising Sound Editor for Skywalker Sound.
Matthew, whose hair is a mix of silver and gray, has been with LucasFilm and Skywalker Sound since he was 17 years old. Over the past twenty-plus years he's learned from the best in his mentor, friend and sound engineer legend, Ben Burtt. Matthew's credits include, amongst other films, all three Star Wars Prequels, Indiana Jones and the Kingdom of the Crystal Skull, and more recently, J.J. Abrams' Super 8.
If Super 8 is Abrams' throwback to his youth and passion that drove him into film, then the Star Wars films offer similar inspiration and drive for Wood. He grew up with the Original Trilogy and became involved on a professional level with work on the special editions in 1996. This was after he used to watch quarter-inch reels of the Carbon Freezing Chamber sequence over and over as a teenager and new LucasFilm hire. Since then, Matthew's hand has been in every Star Wars release since – including the animated Clone Wars series.
Speaking of the Clone Wars, did you know Matthew voices General Grevious? He also voiced the live-action version of the character as well as Bib Fortuna and Ody Mandrell in The Phantom Menace, and Magaloof and Seboca in Attack of the Clones. I should have asked him to do a quick Grevious impersonation for our group. If you're reading this, Matthew, you'll get that request next time.
Matthew's love for Star Wars runs deep and is the top reason he's doing what he's doing today. He told us that the Star Wars films are the only films he can listen to and instinctively know whether it sounds correct or not. He calls this phenomena his "childhood DNA" and it screams when something sounds off.
This instinctual gift proved crucial to the Blu-ray 6.1 lossless mixing process as Matthew had to go far back into the archives, especially for A New Hope which by far required the most work for its Blu-ray debut, and try to fill in the gaps where tape degradation has caused wow, flutter and other anomalies. He compared this process to working in forensics where he's trying to solve a mystery by piecing together the available clues.
By the time The Empire Strikes Back and Return of the Jedi were produced, film preservation and longevity were already a part of the filmmaking checklist since the first film was such a big hit. Effects, dialogue and music were recorded into their own separate tracks which greatly aided forming the 6.1 channels worth of audio for the Blu-ray mix.
To create what Matthew calls a "re-editorial of everything" for A New Hope, he had to go all the way back to the original production log rolls recorded on-location in Tunisia to ensure he had all the original sound elements for the new Blu-ray mix, no matter how brittle they sounded. You can see an example of some of these tapes dated March 22, 1976 below.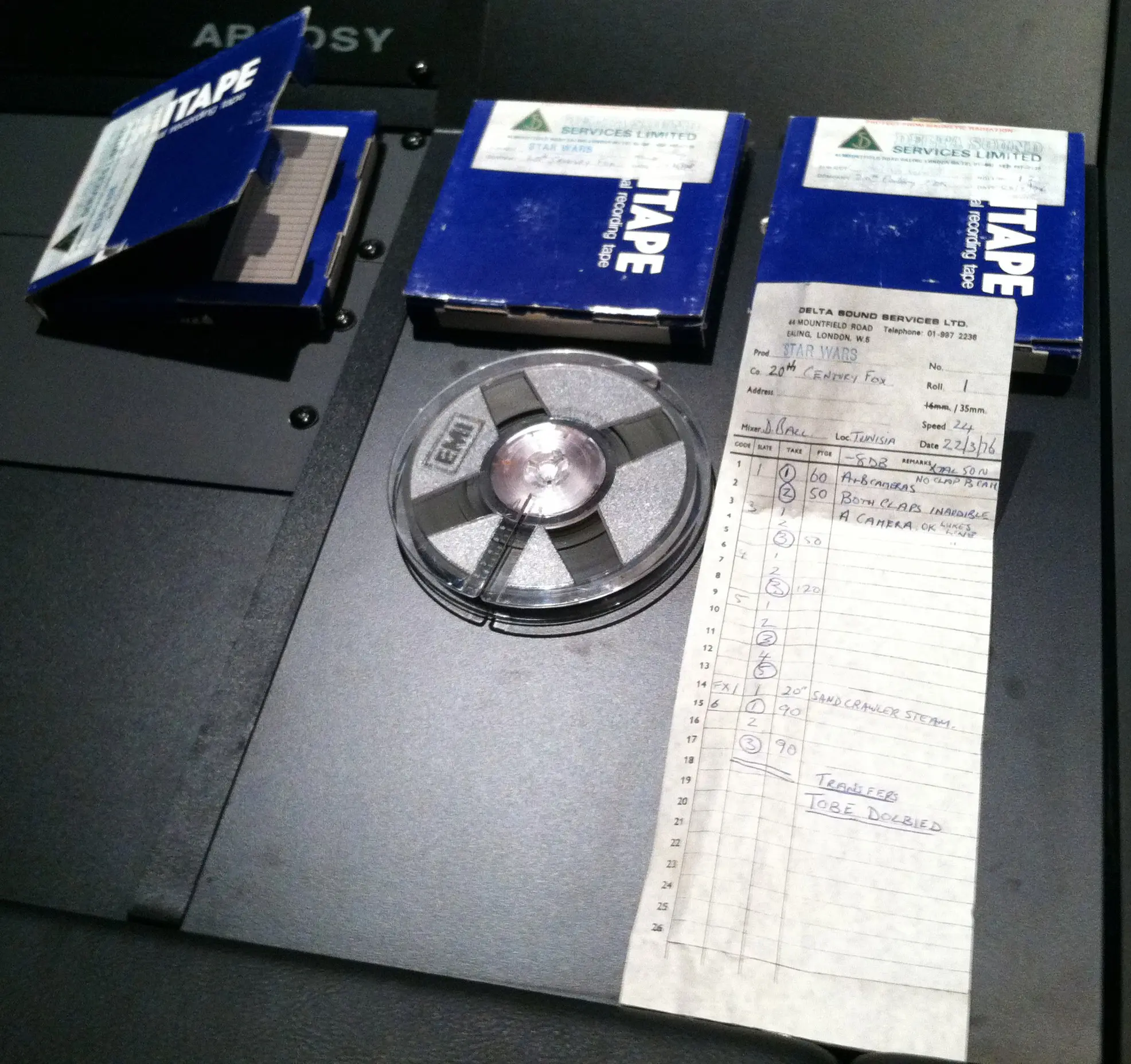 Part of Matthew's creation of the new Blu-ray mix was to create a digital version of these tapes (which include outtakes that unfortunately will, for now, remains behind LucasFilm doors), and then carefully use elements in them missing from older versions to fill in the gaps. I made it sound simple. In reality, it was an extremely intensive process that took Matt years to complete when also factoring in all the surround information was, essentially, created from scratch using the 2004 DVD as a launching point. Purists, don't worry. All the various mixes over the years still exist, have been digitized, and will not be destroyed.
Going back to the beginning afforded Matthew the opportunity to remove a lot of the noise created by the limitations of recording technology when A New Hope was filmed. One great example Matthew gave is when R2-D2 is navigating through the Tatooine canyons. On the DVD version of this scene, you can hear subtle noise in the background as R2 looks around in fear. For Blu-ray, Matthew is proud that all you hear now is "silence," as George Lucas had always intended but technological constraints didn't allow him to achieve.
On the opposite end of the spectrum, the new 6.1 mix will make certain scenes more immersive. Matthew calls these the EX moments (a carryforward term from DVD), and an example given that spawned the question from one of my colleagues is when the Star Destroyer flies overhead in A New Hope.
Lucas, in addition to Ben Burtt, advised Matthew throughout the process of creating the 6.1 Blu-ray mixes. Matthew's primary goal from Burtt and Lucas was simple: to ensure a stable listening experience while watching the entire Saga. We were treated to the Pod Race clip from The Phantom Menace, the initial X-Wing assault on the Death Star in A New Hope, and the Luke versus Vader fight in The Empire Strikes Back to draw our own comparisons. Matthew was proud to tell us we were listening to the audio direct from the master, which in turn will be digitally transferred exactly as-is to the Blu-ray.
A New Hope was recorded in mono so the original soundtrack today would pale in comparison to the Prequel Trilogy. In listening to the X-Wing assault, Matthew has successfully retained the mono recording's feel while cleaning the mix and making it more powerful. It's still doesn't reach as deep as the Pod Race does, nor should it. You can clearly tell they are films from different eras, yet still fit together as part of something bigger.
When asked directly about the flipped rear channels for the orchestra that plagued the A New Hope DVD, Matthew chuckled and said they are now fixed, but technically weren't broken to begin with. It occurred due to using a technique to create surround information since the music master did not have it. For the Blu-ray, the orchestra will now play in the correct sound channels.
As I mentioned earlier, Lucas did have a hand in the new Blu-ray 6.1 audio mixes and his influence will be heard. He impressed upon Matthew to ensure the score was perfectly balanced with the dialogue and effects so it wouldn't drown out. You'll definitely hear the results of this philosophy when the X-Wings begin their attack on the Death Star.
Matthew also confirmed he found some things while going through the old master like comments in the production lines that he added as dialogue into A New Hope. He stopped short of telling us what those and other new audio and video changes made by Lucas were, so we'll have to all discover them the old fashioned way.
As a poke back at Lucas, Matthew said there were times he'd spent a ton of effort making something like it originally did during the theatrical presentation. Then George would come in and want to change it, and all the work would be for naught.
After Matthew sent us on our way, it was clear the 6.1 DTS-HD Master Audio mixes for Star Wars: The Complete Saga on Blu-ray are not some straight rehash of the 2004 mixes. The short snippets we heard sounded fantastic, even if I was standing around two feet away from the right rear surround channel.
As with every previous iteration of Star Wars, there's going to be some backlash over the audio changes George has chosen to make – the full extent of which we don't know yet. Matthew loves and prefers the new Blu-ray mixes to the originals, citing the R2 canyon scene as an example. He's hoping we'll feel the same way.
To wrap up Part 2 of this visit to LucasFilm, here's another set of HD stills from the upcoming Star Wars: The Complete Saga Blu-ray release, or more specifically, A New Hope and The Empire Strikes Back. I'm calling them "HD stills" as that's what LucasFilm called them, word for word. The original .tiff files were nearly 12MB each so I've compressed them down to a more manageable size. Regardless of compression, you'll still get a feel for what to expect from the final version, and I recommend not drawing any conclusions until you've watched said final version.
– Dan Bradley
TheHDRoom's Star Wars: The Complete Saga on Blu-ray Preview Part 1
TheHDRoom's Star Wars: The Complete Saga on Blu-ray Preview Part 3