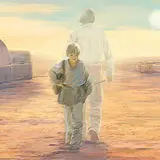 Vocal Internet fans may have yelled "nooooo!" when learning of George Lucas' numerous changes to the Star Wars films for its Blu-ray release. In the end, they were the Empire and LucasFilm and Fox are dancing with Ewoks.
Star Wars: The Complete Saga has become the all-time bestselling catalog title on Blu-ray with over one million units sold and over $84 million in sales across the globe since its release on September 16. In North America alone, 515,000 units were purchased over the first week.
Imagine how many units might have sold if everyone who swore not to purchase it because of the changes actually did? We'll never know, but it's clear the Force was not only strong with this one, it was invincible to Internet backlash.
With the holiday shopping season still to come, Star Wars: The Complete Saga on Blu-ray should easily cruise past the $100 million mark in sales.
Next up will be a trickier challenge for LucasFilm and Fox as The Phantom Menace pod races into theaters in 3D next February. The future of Star Wars films in 3D depends on its success.