Lucasfilm has already announced that the complete six-film Star Wars saga is coming to Blu-ray Disc in the latter half of this year. Apparently there is more news about this most anticipated set George and co. want to get off their chest.
On Thursday at Panasonic's CES booth, Darth Vader and numerous stormtroopers (presumably the 501st) will be on hand to make a "most impressive announcement" regarding Star Wars: The Complete Saga on Blu-ray. What this announcements holds we don't know, but there are quite a few possibilities.
The fact that Lucasfilm has chosen Panasonic's booth to make the announcement might tie into some sort of Blu-ray 3D home video announcement for The Phantom Menace or all of the Star Wars films. Fox, the Star Wars home video distributor, currently has an exclusive deal with Panasonic for the Blu-ray 3D version of Avatar into early 2012. The Phantom Menace will be the first Star Wars film released theatrically in 3D in… early 2012. Coincidence?
A more probable announcement is the unveiling of the box art, bonus features and a definitive release date. But if that's the case then why is Panasonic involved? Always in motion the future is.
Check back Thursday for the full Lucasfilm and Panasonic Star Wars on Blu-ray announcement.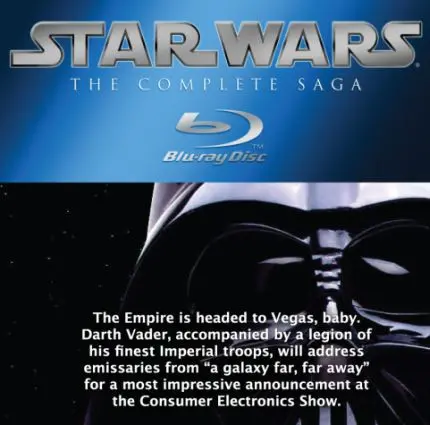 Source: Engadget